This website contains information on dietary supplements. These are intended to supplement the diet. They are not medicines and no statements on this website should be construed as a claim or representation that these products are intended to be used in the treatment or prevention of any disease. Any advice given is entirely without obligation and concerns only nutrition and food supplements. If you are physically ill, please consult a therapist or (natural) physician and follow his/her advice.
Neither Ultra Prevent nor the authors accept any liability for any damage that may result from the advice given or any inaccuracies or omissions. No part of this publication may be used for commercial purposes without the prior written consent of Ultra Prevent.
Become a Sales Representative
Do you want to be a UP Sales Representative?
Are you enthusiastic about our information and products and do you want to help your family, friends, customers or clients to support their health?
If so, then become a sales representative for Ultra Prevent. You will receive a discount on your orders, and we will provide you with professional information and material needed so you can distribute it.
Feel free to contact us for more information.
Discover the five ways to prevent and even cure chronic diseases and disorders. Jos Stuyver takes you back to the basics of preventive health.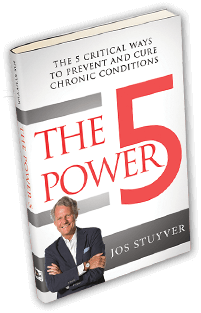 Want to stay informed about our health news, blogs, vlogs, presentations, product information and offers? Then sign up for our online newsletter.